Support Our Mission
Your support changes lives! 
Dear friends,
We know that you agree that as the aging population in Minnesota grows, so does their need for high-quality, affordable services that help them stay in their own homes and our communities. We all age.
Janice lives alone in a single family home that she owns. She lives in the same neighborhood that she grew up in as a child, and for decades she's lived a few blocks away in a house where she raised her own two children with her husband.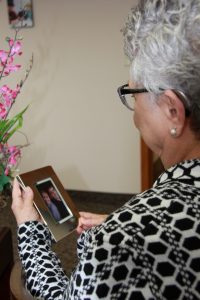 Janice is in her 80s and doesn't move around as well as she used to. Her husband has passed away and her daughters have moved out of state. Janice can take of herself, but she needs a little help when it comes to getting up on a stool to change a lightbulb or getting down on all fours to scrub her kitchen floor. She needs someone to mow her lawn and shovel her front walk.
Janice wants to stay in her home. Janice wants to stay in the community that she's grown with. These are places that allow her to live a healthy, connected, vibrant life. All Janice needs is a little help, help that costs Senior Community Services just $600 a year to provide. And here's why we should all want to help Janice stay in her home.
We know that there are very real emotional, social and health benefits for an older adult that ages in place. But keeping seniors at home and out of segregated senior housing is also the smart move financially for all of us.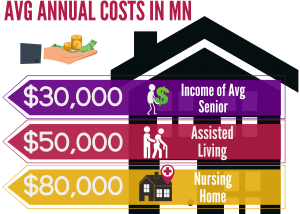 The average annual cost of assisted living in Minnesota is almost $50,000. And nursing home care is even more cost prohibitive, with a price tag of over $80,000 a year on average. Considering that the annual income of most seniors is less than $30,000, there's a huge deficit here no matter how you cut it. If Janice sold her home to pay for assisted living, her money would run out in about three years.
So who picks up the tab? Well, we all do.
Most private health insurance doesn't cover the long-term care of assisted living or nursing homes, meaning seniors and their families often have to pay out of pocket. With limited or no income, many older adults then quickly have to rely on federal programs such as Medicaid to afford those services. These programs are paid for with taxpayer dollars.
With your support, we can choose to be proactive rather than reactive and ensure that Janice has the services she needs to stay in her home longer.

 Please join us today in securing affordable aging services that empower seniors to remain healthy and vibrant in our communities, and economically secure in their own homes.
And if you choose to help an older adult like Janice before the end of May with a contribution of $150 or more, we'll show our appreciation by sending you a complimentary copy of Ashton Applewhite's new book, This Chair Rocks: A Manifesto Against Ageism. On behalf of the nearly 24,000 seniors we serve each year, thank you for your support!
Sincerely,
Warm regards,

Deb Taylor
CEO
---
Join us in saying YES to older adults and their caregivers, today!
---
Questions? Call us at 952-767-7897 or send us an email.