What's Changed for Medicare in 2019?
By guest columnist Danielle Kunkle Roberts
We may be well into the New Year, but how changes to Medicare will affect us in 2019 can still be unclear to some beneficiaries. The Bipartisan Budget Act of 2018 approved new changes to Medicare that will affect many beneficiaries this year and in the future.
Changes to Medicare Advantage plans were arguably the biggest change to Medicare in 2019. In this article we will take a closer look at what exactly changed with Medicare Advantage plans as well as other notable changes to Medicare that you should be aware of.
Medicare Advantage

For as long as they have been in-place, Medicare Advantage plans have been required to offer benefits that are equal to or better than Original Medicare. To incentivize beneficiaries to choose their specific plan MA plan over another, insurance carriers often add extra perks that Original Medicare doesn't cover such as dental coverage, vision coverage, and other popular perks.
In 2019, the list of additional benefits that Medicare Advantage plans can offer has grown. Not every plan out there includes these benefits yet, but we expect to see more carriers building these newly allowed benefits into their benefits for 2020 and beyond.
Caregiver support
Adult daycare, respite care, and caregiver training are now available on many Medicare Advantage plans. These benefits will be capped at a certain dollar amount or number of hours, just like most benefits. As some caregivers put in full-time hours taking care of loved ones, this is a very welcome benefit change.
Nicotine replacement therapy
In 2019, nearly half of all Medicare Advantage plans have indicated that they will cover nicotine replacement therapy. This can be anything from nicotine patches to nicotine gum. A truly positive benefit for the senior population, we hope this will help to prevent lung cancer and other breathing-related illnesses for many people.
Transportation
In the past, transportation benefits have usually only been available to beneficiaries that were eligible for both Medicare and Medicaid. As of this year, some Medicare Advantage plans will offer coverage of transportation to and from medical visits, pharmacies, and other approved services for plan members.
The benefits may cover the cost of a certain amount of of one-way trips per year through traditional taxi services or even modern options like Uber and Lyft. This benefit is designed to ensure members don't miss important medical appointments simply due to a lack of transportation.
Home safety devices
Many of the newly introduced benefits will ultimately save the carriers money in the long run. This one is no different. In an effort to prevent unnecessary falls and trips to the emergency room, some plans will begin offering home safety device installation.
Annual allowances will be provided on some plans to pay for the installation of these devices such as bathroom handrails, wheelchair ramps, and reaching devices.
In-home support services
As of 2019, some in-home services will now be covered by certain MA plans. These services include housekeeping services, meal delivery, and in-home aides that can help with to help with daily activities such as bathing, dressing, and eating.
Initially, this benefit was introduced specifically to help chronically ill beneficiaries and allow them to remain in the comfort of their home as long as possible.
Other Notable Changes
Though the changes to Medicare Advantage plans have been a highlight to the 2019 changes, there are a few others worth noting.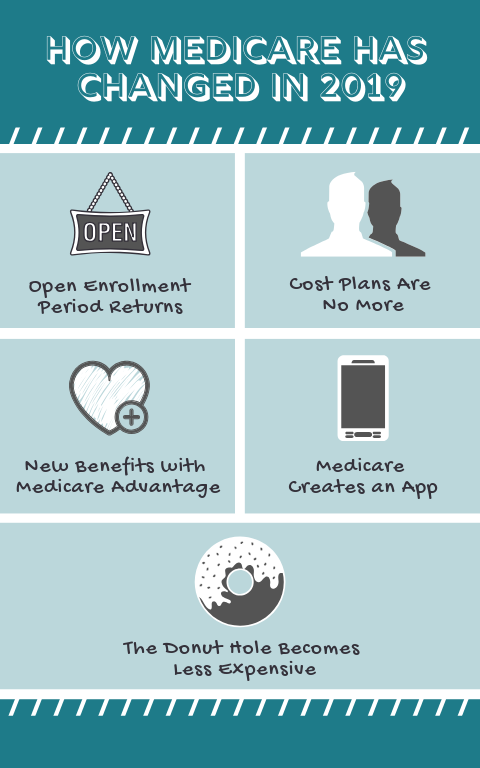 Open Enrollment Period Returns – if you selected a Medicare Advantage in the 2018 Annual Election Period (AEP) and it is not a good fit, you can use this time (January 1st – March 31st) to get out of it.
Cost Plans Go Away – this was a change that was a long time coming but as of 2019, Cost Plans are no longer available to Medicare beneficiaries in most areas.
Medicare Created an App – beneficiaries now have answers right on their phones. The app will let users search medical services and procedures to see whether they are covered by Medicare.
Donut Hole Shrinks – In 2019, instead of paying 44% for generic prescriptions and 35% for brand-name prescriptions, beneficiaries will only be paying 37% for generic prescriptions and 25% for brand-name prescriptions while in the donut hole.
Keeping up with the changes to Medicare from year-to-year can feel overwhelming. In the end, the more you know about your Medicare coverage, the better advocate you can be for your healthcare and your wallet.
Seniors Partner Care
Senior Partners Care (SPC), a program of Senior Community Services, enables low-to-moderate-income older Minnesotans to get the care they need by bridging the financial gap between their medical bills and their Medicare coverage. Senior Partners Care has partnered with most major metropolitan area hospitals, and hundreds of clinics and providers statewide. These healthcare providers have agreed to accept Medicare as payment in full, waiving all Medicare co-pays and deductibles.
Established in 1973, Senior Partners Care is dedicated to making sure out-of-pocket medical costs don't keep someone from getting the healthcare they need. SPC only charges $45 a year for an application fee. For more information and to find out if you or a loved one is eligible, visit: https://seniorcommunity.org/programs/senior-partners-care/
---