4th Annual Reimagine Aging Conference | October 3, 2019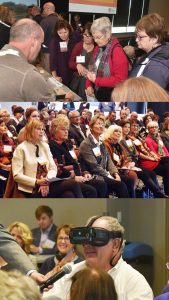 Thursday, October 3, 2019 | 1pm – 4:30pm
Metropolitan Ballroom | Golden Valley, MN
Join us for the 4th Annual Reimagine Aging Conference! Members of the community are coming together for the latest information about how older adults can live a high-quality life, independently through the use of accessible technology.
This year will feature a keynote panel discussion on transportation and technology with panelists from Minnesota's Department of Transportation, Department of Human Services, and Mobility4All, as well as 3 breakout sessions to choose from.
This conference is for healthcare professionals, senior living specialists, government staff & officials, caregivers and older adults themselves. Social workers receive 2 CEUs for attending this conference.
Registration Rates
General Admission: $25
60+ Senior discount: $15
---
Keynote Panel| Technology & Transportation
This year's Keynote Panel will feature a dynamic conversation on the future of transportation specifically as it relates to accessibility for older adults and others with physical limitations. Panelists will discuss how government agencies, city planners, and private companies will have to implement these emerging technologies, such as autonomous vehicles, in a way that is effective, accessible, and safe for all members of our communities.   


---
Breakout Sessions
Aging With Technology- Something for Everyone
In this breakout session, the breakout leaders from Cassia's Learning Lab will review the evolution of technology in the context of aging and demonstrate some of the newest health and safety devices available today. Participants will be free to interact with the technologies and test drive one of the Lab's telepresence robots.


---
Telehealth in the Home 
Telehealth is starting to gain traction as people become more familiar with the services offered and insurance coverage options improve. This session will examine the latest approaches to bring telehealth services to the home setting, such as monitoring for congestive heart failure, adjusting medications after receiving a new blood pressure prescription, and follow-up visits with your provider and care team after a hospital stay.

---
Apps for Aging 
This session will examine the ways mobile applications, specifically My House of Memories and The Red Panic Button, enable older adults and their caregivers live robust, safe, and connected lives. 
My House of Memories app allows you to explore objects from the past and share memories together. It can be used by anyone, but has been designed for, and with, people living with dementia and their carers.
The Red Panic Button app offers a higher degree of security in our society and safety guidance in unknown environments (using a GPS option) and helps people feel confident and safe when moving or working.

---
Agenda
1:00 – 1:30 pm             Registration and Exhibits/Vendors
1:30 – 1:40 pm            Welcome and Thank Sponsors
1:40 – 2:40 pm           Technology & Transportation Panel Discussion        
2:40 – 2:55 pm            Exhibits/Vendors
2:55 – 3:35 pm            Three Breakout Sessions to choose from
3:35 – 3:50 Pm            Exhibits/Vendors
3:50 – 4:30 pm            Same Three Breakout Sessions to choose from 
Community/Corporate Support Welcome – A Range of Sponsorships Available!
For more information, contact Ben Noble, Director of Development & Communications at
952.767.7881 or b.noble@seniorcommunity.org
About the Host Organization
Senior Community Services is a 69-year old nonprofit organization that helps older adults remain in their own community, live with dignity and to reimagine aging.
---
Vendors