Dear Senior Community Services Volunteers: an open letter to our awesome volunteers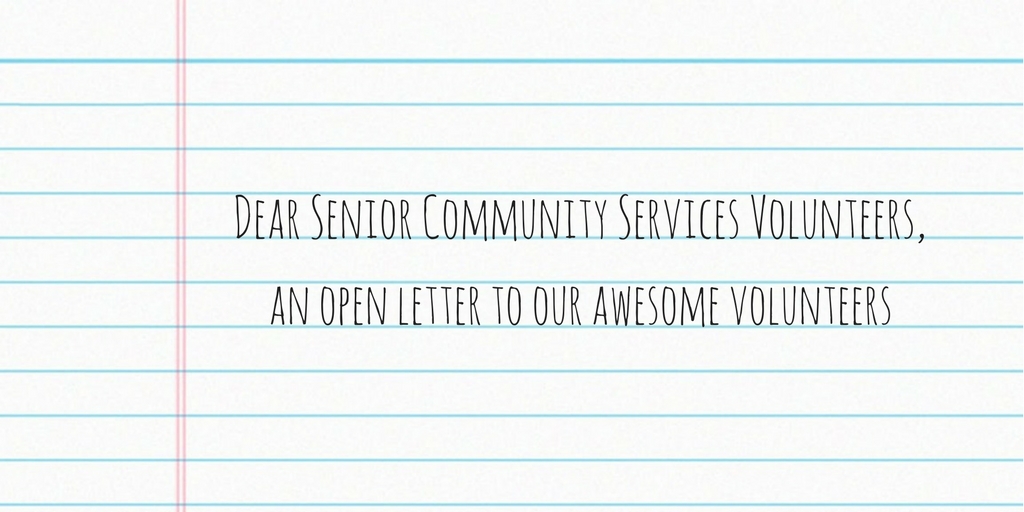 By: Don Waletzko, CFO
Dear Senior Community Services Volunteers,
April is National Volunteer Month, so the staff here at Senior Community Services thought it would be nice to let all of our wonderful volunteers know how much you mean to us and the impact you have every day with your service. When asked what they think of our volunteers, here is what our staff had to say:
"Jackie Robinson has been quoted as saying: 'A life is not important except in the impact it has on other lives.'
Mark Twain has been quoted as saying: 'The two most important days in your life are the day you are born and the day you find out why'
These are wonderful quotes. Volunteers clearly understand what is important in life…and they are wonderful also!" – Don Waletzko, CFO
"Volunteers not only provide an invaluable service, but also their very presence is a testimonial to the dignity and worth of the older adults we serve." – Adele Mehta, Director of Senior Outreach & Caregiver Services
"Without our volunteers, there would not be a Medicare Program!  Senior Community Services has incredible volunteers on the Medicare Team!  Because of this team, we are able to offer unbiased individual Medicare health insurance counseling in 14 different community centers, facilitate Medicare educational classes in the community and with corporate businesses, and can offer over the phone assistance with Medicare questions.  I am so fortunate to work with these talented volunteers who are so generous with their time." – Dawn Lund, Director of Medicare Programs
"Our volunteers are awesome!  Their willingness to help their senior neighbors in need is demonstrated throughout the year.  Beyond the physical work they accomplish, is the connection and impact they make on a personal level in the relationships that are formed with our seniors.  We can't thank them enough for the work they do and for the joy, friendships and willing hearts that they bring." – Jon Burkhow, Director of Household & Outside Maintenance for Elderly
And finally, our CEO Deb Taylor had just a few words to say, "Volunteers are the lifeblood of Senior Community Services.  Together we help seniors and caregivers who often struggle to maintain independence in their long-time home."
Our hope is that you know today, and every day, how appreciated your time and energy is to all of the staff here. We truly could not do what we do without you. We are honored that you have chosen to volunteer with us. Thank you.
Sincerely,
Senior Community Services

---