4 Ways You Can "Age Out Loud" During Older Americans Month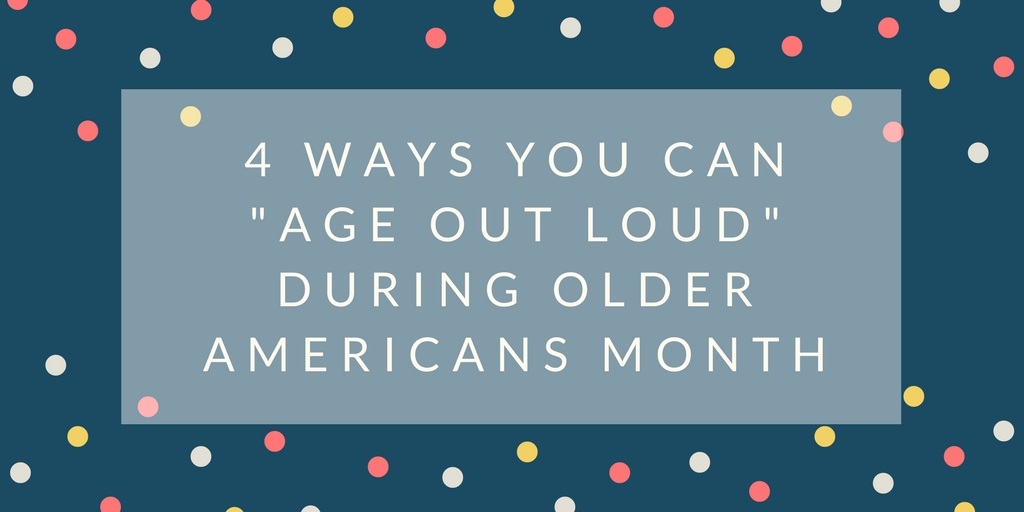 By: Kathryn Kirk, Communications Intern
Americans are living longer and fuller lives these days. The average male lives until the age of 76. While the average female lives until the age of 81. With the typical retirement age being 63, that gives you a lot of years to add more life to.
Older Americans month helps to raise awareness of vital aging issues across the country. This year, Older Americans Month is celebrated in May.  We encourage you to join us as we give aging a new voice by Reimagineing Aging with this year's theme, "Age Out Loud". By taking control of your health and independence, and advocating for yourself and others, you can help change the stigma around aging.
Your Health
Focusing on your physical and mental wellness is a big part of the new way to age. Eating right is one way to make a difference in your health as you age. Consuming the proper nutrients can improve how you feel, as well as benefit your body. Some important nutrients that you should be getting plenty of as you age are potassium, calcium, vitamin D and vitamin B12. Being active can reduce your risk of disease and disability. Adults need at least 2 ½ hours of moderate-intensity exercise each week. You can do this by joining a fitness class or even taking leisurely walks around your neighborhood. No matter what you choose, it is always recommended to check with your doctor before starting an exercise program.
Age Your Way
There is no right way to age. Many people are changing the way they age by trying new careers and hobbies. Learn something new by taking a class or joining a club. There are many resources to finding your best way to age.  A great place to start is by checking out your local senior center. Whatever you decide, be sure to find the right balance. Everyone has their limits so be careful not to take on too much at once.
Your Security
Having financial security and knowing how to protect yourself is vital to aging well and maintaining your independence. Talking to a financial advisor or reading up on preventing financial exploitation can help you protect your future. Not only is it important to protect your finances but also your rights. If a caregiver ever makes you feel uncomfortable contact someone you trust right away as it could be elder abuse.
Giving Back
Donating your time, money or both can be beneficial to the recipient and you. One way to give back is by becoming active in your community. You can join a committee at your local community center or volunteer at a local school. There are many health benefits to volunteering, including better mental and physical health, as well as higher life satisfaction.
These are only a few ways to Reimagine Aging. Be creative and know that there are many resources available to you. Celebrate the life you've lived while finding more reasons to rejoice. And always remember, aging should be fun, not stressful.  
---