Caregiving and the Guilt of "Did I Do Enough?"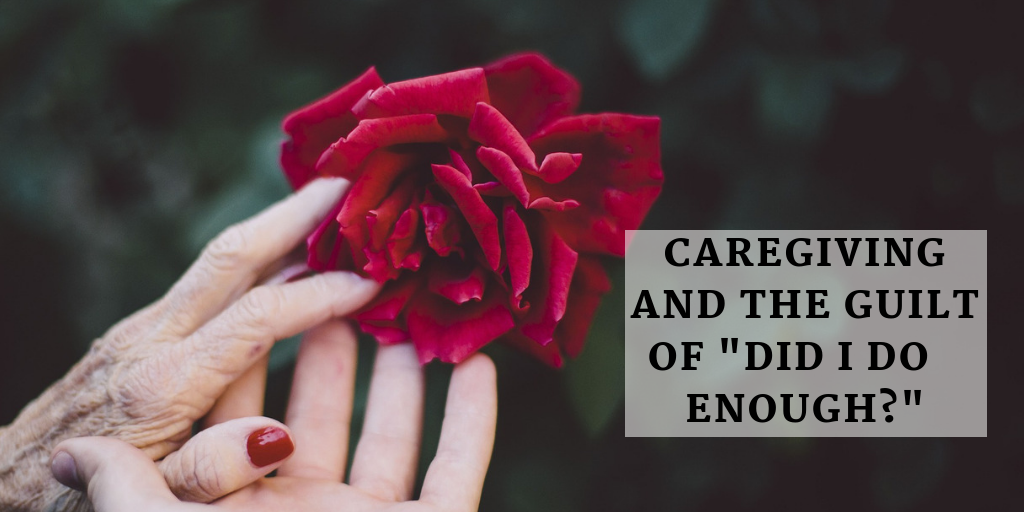 By CEO Deb Taylor
"There are only four kinds of people in the world.
Those who have been caregivers.
Those who are currently caregivers.
Those who will be caregivers, and those who will need a caregiver."― Rosalyn Carter
How do you view the caregivers in your life? How do you think they view themselves?
November was National Family Caregivers Month, a time to celebrate the more than 65 million caregivers in the U.S., 90% of whom are family members of the person receiving care. Many family caregivers don't even realize or consider themselves to be one. Life can quickly become very complicated when a family member is in need and you are suddenly thrust into a position of support for someone you love.
On top of everything else, guilt is an unexpected additional weight on a family caregiver's shoulders. The stress we feel can translate into lingering thoughts like "I'm not devoted enough. I'm not patient enough. I don't give enough time, enough love, enough understanding. I'm too selfish, too resentful, too unskilled. I'm only doing this because I have to." We tell ourselves these things because we see someone we love struggling and we begin to worry we're not doing all we can to ease that burden. The guilt, however negative, comes from the best of intentions.
Caregiving is often a thankless job. There can be long stretches of time spent being the silent support, the safety net waiting to deal with an obstacle when it arises. Other times it requires us to tap into a wealth of patience and love we didn't know we had access to. We have to remind ourselves that we can't be everything all at once for someone. We have our own messy lives to contend with in addition to providing care for someone else. We are doing what we can to lessen the burden of another, even if it feels small or insignificant at the time.
It's important to realize that the small moments do add up to something. The days of boredom or monotony, the days spent in cars on the way to doctors' appointments, or sorting through insurance coverage of a new medication, the hours spent on the phone updating family members and friends on condition changes. These things will add up to the months or years of simply being there; the tiny bricks in the foundation that gave someone the extra support they needed to live the life they deserve.
It's okay to feel guilty. It's okay to feel anything. Accept these feelings. Just be mindful and take steps to remove the judgement from them. When you catch yourself slipping into these negative thought patterns, take a moment to breathe and remind yourself that you're fighting these battles the best you can, that no amount of giving or compassion is too small, and that the time you're giving to someone else doesn't go unappreciated, even if there isn't always a "thank you" attached to it.
Focus on what you can control right now. Keep your expectations for yourself realistic and attainable. Forgive yourself for any guilt, frustration, or resentment you may be feeling. These are natural responses to the difficulty in caregiving. Remember, there is no "right way" to be a caregiver; we can only try to find what works best for ourselves and the ones we love. The most critical aspect for us as family caregivers and for those we care for is to find balance. Yes, caring for our loved ones is important, but it's equally important that we care for ourselves along the way.
This holiday season, in addition to those who need our support, be mindful of your own needs. Find someone who understands. Talk to a professional.  Family caregivers are invaluable resources of support for any of us that find ourselves dealing with life's unpredictability. You are enough, what you do matters, and your selfless giving is recognized. Thank you.
If you're a caregiver feeling overwhelmed with it all, give one of our licensed social workers a call today: 612-770-7005. They will help you navigate your specific situation to find the support and resources you need to be successful. We also offer several support groups for family caregivers. More information can be found at www.seniorcommunity.org.
Deb Taylor is the CEO of Senior Community Services and its Reimagine Aging Institute, a nonprofit that helps older adults and caregivers navigate aging to maintain independence and quality of life. We provide a wide array of programs — www.seniorcommunity.org
---